Anticipatory Customer Solutions (ACS)
Anticipatory Customer Solutions:
As someone who's spent more than 30 years providing service to customers and stakeholders it is clear that most organizations focus on the bare essentials of customer service by answering the phones and giving basic information to their customers.  Too often we hear a company describe themselves as meeting the needs of their customers…but what is necessary is to exceed and anticipate the needs of your customer if you want to get and keep their attention.
Exceptional service comes from recognizing the key interactions in the customer experience and anticipating the needs of your customers. Organizations that dedicate themselves to identifying the problems or challenges that are most critical to their customers – and then resolving those issues before a customer asks for them can create dedicated long-term partners and relationships.
Proactive, anticipatory service is about putting yourself in someone else's position and understanding their needs.  A simple tool and process has been designed to follow allowing you to:
predict and anticipate your customers needs, then to…
identify and clarify them ultimately…
documenting and describing them for quantification.
Communication is essential and knowing how to ask the right questions is an art and established process – we can assist you in understanding the what to ask and look for.
Imagine if you could approach your customers with the product, process or service they were trying to implement before they needed it. Similar to the behavior of "Radar" in the television series "MASH". Even stronger is the ability to provide the solutions at a cost that the customer embraces.
ACS is a training tool used in conjunction with the Val and Jeff Gee text "Super Service: Seven Keys to Delivering Great Customer Service... Even When You Don't Feel Like It!... Even When They Don't Deserve It!". Our training program will partner with you to deliver improved operational effectiveness, increased speed-to-market, enhanced customer satisfaction and accelerated revenue growth, creating a sustainable competitive advantage for your organization.
Anticipatory Customer Solutions
Exceptional service comes from recognizing the possible opportunities in a customer interaction and anticipating the needs of your customers. Organizations that embrace the philosophy of the importance of their customers and providing possible options for them to embrace will build solid, long-term relationships. The communication link is very tricky because you don't want to appear to be pushy or demanding but you do want to communicate to your customer that your looking out for their best interists in providing services that meet or exceed their expectations.
Proactive, anticipatory service can create a bond and emotional connection with your customer which leads to trust and faith in your performance. Emotional connections build emotional equity, and in time, your organization's name becomes synonymous with "Exceptional service" in your customers viewpoint.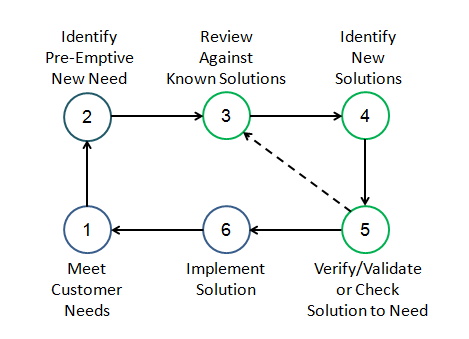 Use the ACS Model to:
Create a Process for identification of customer needs
Go beyond the obvious to establish customer loyalty
Understand your customers current and future needs
Become the "source" to solve your customers problems
Improve your customers experience to be described as Exceptional
For more information on cost and event booking, email RPLC